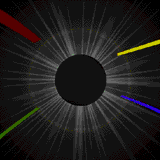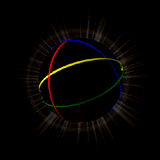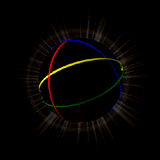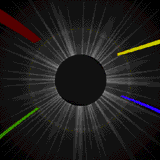 Design for the World
Outline

Founding Purposes
---

Challenge for global problems
Toward new century, there filled with global problems that far surpass the competence of any conventional professional field, that will need challenging creative solutions.

Today's problems for design: Multifaceted disasters, Famine, Global environmental pollution, Erosion of community for urbanization, Deviation from humane criteria brought by innovative hyper technology, Social inequities from age, sex and bodily ability.

Restructuring of total ability of design
Design professions make stronger power in their integration for problem solving beyond subdivided fields through creative methodologies. Often the design professions have diluted the advantages that could be gained from broad applications of design thinking by subdividing its practitioners into separate fields of expertise. Today, design is required to have new integrated power through cooperation beyond dividing lines between existing design disciplines toward the goal for solving a number of problems choking global society, revitalization of industry and community for next generation and deepening cultures.

Development of ability and social value of design and its higher promotion.
New horizon of ability of design can be achieved by unification of professional expertise of respective design fields while each design field keeps its own international activities and independence in contributing to the profession and the region. The unification will act reciprocally to deepen profession, to strengthen activities, to create new venue of design activities and to back up political power for materializing the activities in respective fields. The activities as a whole will further promoting sound social value of design.

Cooperation of professional design organizations in international level.
Cooperation of international professional design organization will bring vigor and higher reputation to the respective organizations and creative solutions for today's various problems as well. For this goal, Design for the World is hereby established aiming at creation of future life culture through cooperation of international organizations related to design and regional organizations envisaging internationality.





Activity aim
---
1. The DW promotes design responsible for culture, economic activities based on humane dignity in viewing the earth as mutual resources of life.

2. The DW identifies design related problems for mutual collaboration of professional fields and proposes methods of the execution.

3. The DW supports execution of collaborative projects between professional organizations.

4. The DW supports human resources, financial need, information for the projects that DW designates.

5. The DW supports design solutions for projects that are found through research activities.





Membership
---
1. Full members: Design related international organization

2. Associate members: Entities related to the aims of DW.

3. Patrons : An organization, public institutions, corporation or individual person in agreement with the purposes of DW and giving financial support to DW.

4. Fellows: Any person who contributes to the aims of DW.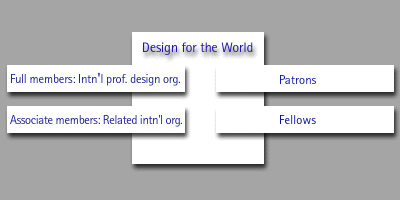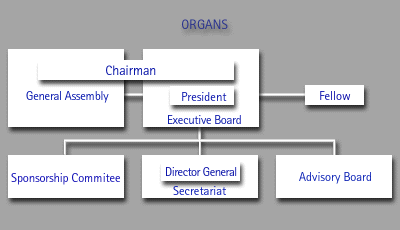 Executive Board Members
---
Chairman
Kenji Ekuan / Japan

President
Andre Ricard / Spain

Treasurer
Antoni Puig / Spain

Vice President / Sponsorship
Robert Blaich / U.S.A.
Vice President / Image and Communication
Augusto Morello / Italy

Board Member
Fritz Frenkler / Germany
Marianne Frandsen / Denmark
David Grossman / Israel
Des Laubscher / South Africa
Alexander Manu / Canada
Guy Schockaert / Belgium


Director General
Mai Felip / Spain

Secretariat
Av. Diagonal, 452, 5a planta
Barcelona 08006, Spain
Phone: 34-3-218-2822
Fax: 34-3-237-2219
e-mail: bcd@cambrabcn.es





Promoter:
---
International Council of Societies of Industrial Design (ICSID)
Yrjonkatu 11 E, FIN-00120, Helsinki, Finland

International Council of Graphic Design Associations (ICOGRADA)
P.O.Box 398, London W11 4UG, England

International Federation of Interior Architects / Designers (IFI)
Herengracht 162, 1016 BP Amsterdam, The Netherlands

Barcelona Design Center (BCD)
Diagonal, 452, 5a, 08006, Barcelona, Spain






Index I Policies I Programme I Organizer I

I Speakers