JD Forum



20th

Commemorating the Publication: - Re-Design of the Motorized Socity , Proposals for Mobility In the Near Future
---
26 November. 2005 at: International House of Japan (Tokyo)

Opening Address: Kenji Ekuan, JD Chairperson
Discourse: Eiko Ohya, Journalist
Presentation:
Hiroshi Sano, Creative Director, Preshident of mosdesign laboratory
Yukio Sakota, Industrial Designer,Prof. of Sizuoka University of Art and Culture
Tomoko Inukai, Critic
Seiichi Mizuno, Social Marketer, President of Institute of Marketing Architecture Co., Ltd.
Panel Disucussion:

Hidetoshi Ohno, Architect, Prof. of the University ot Tokyo
Syuzo Ishimori, JournalistDirevtor of Research Center for ultural Resources National Museum of Ethnology
Keiko Torigoe, Soundscape Designer, Prof. of University of the Sacred Heart Tokyo
Ken'ichi Nishiyama, Prof. of Economics, Saitama University
coodinator: Masato Isaka, JD Managing Director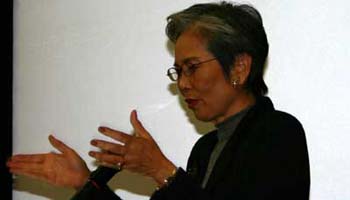 20th

Commemorating the Publication: - Re-Design of the Motorized Socity , Proposals for Mobility In the Near Future

---

26 November. 2005 at: International House of Japan (Tokyo)

Opening Address: Kenji Ekuan, JD Chairperson
Discourse: Eiko Ohya, Journalist
Presentation:

Hiroshi Sano, Creative Director, Preshident of mosdesign laboratory
Yukio Sakota, Industrial Designer,Prof. of Sizuoka University of Art and Culture
Tomoko Inukai, Critic
Seiichi Mizuno, Social Marketer, President of Institute of Marketing Architecture Co., Ltd.

Panel Disucussion:


Hidetoshi Ohno, Architect, Prof. of the University ot Tokyo
Syuzo Ishimori, JournalistDirevtor of Research Center for ultural Resources National Museum of Ethnology
Keiko Torigoe, Soundscape Designer, Prof. of University of the Sacred Heart Tokyo
Ken'ichi Nishiyama, Prof. of Economics, Saitama University
coodinator: Masato Isaka, JD Managing Director



19th

Theme: Design for a Water 3- Mobility of Water City "Hiroshima"-Designing to Link

---

28 February. 2003 at: Memorial Museum, Peace Memorial Hall (Hiroshima)

Keynote Dialogue : Takashi Hiraoka, Kenji Ekuan
Report: Shin-ichi Mochizuki
Report: Akio Nishikiori
Report: Masayuki Kusumoto
Report: Kozo Yamada
Panel Disucssion


S. Mochizuki
A. Nishikiori
M. Kusumoto

coodinator: K. Yamada

18th

Theme: Design for a Motorized Society 5- Points to be including in the Final Proposals

---

4 February. 2003 at: International House of Japan (Tokyo)

Theme Orientation : Hiroshi Sano
Roundtable


Kuniaki Tamura
Tomoko Inukai
Seiichi Mizuno
Masakazu Taniguchi
Kazuo Tanaka



17th

Theme: Design for a Motorized Society 4- Points to be including in the Final Proposals

---

26 July. 2002 at: Lutheran Ichigaya Center (Tokyo)

Theme Orientation : Hiroshi Sano
Roundtable


Seiichi Mizuno
Kuniaki Tamura
Kazuo Tanaka
Mitsuo Mizohata
Masaaki Shiraishi
Yukio Sakoda




16th

Theme: Design for a Water 2- Interfacing Human and Water

---

7 June. 2002 at: International House of Japan (Tokyo)

Keynote Speech : Minoru Taketazu
Panel Discussion


Tomoko Inukai
Keiko Torigoe
Haruto Kobayashi
Shin-ichi Takemura

coodinator: Tomoko Inukai


15th

Theme: Design for a Water 1- Aesthetics of the Water and the Water-Landscape at Kyoto

---

18 January 2001 at: Kyoto Chamber of Commerce and Industry (Kyoto)

Keynote Speech : Ryosuke Ohahi
Case Study : Kazuhiro Hirao
Panel Discussion


Takayoshi Nakai
Kazuhiro Noguchi
Atsushi Onji

coodinator: Noriji Sato


14th

Theme: Design for a Motorized Society 3- Mobility Design in an Aged Society

---

21 October 2001 at: Japan Education Center (Tokyo)

Orientation : Tomoko Inukai
Report : Mitsuo Mizohata
Report : Msaaki Shiraishi
Report : Yukio Sakoda
Panel Discussion


T. Inukai
M. Mizohata
M. Shiraishi

coodinator: Y. Sakoda


13th

Theme: Design for a Motorized Society 2- Safety and Environmental Technologies

---

28 July 2001 at: International House of Japan (Tokyo)

Discourse : Masanori Moritani
Report : Akira Matsumura
Panel Discussion


Tokuo Fukuichi
Michimasa Nanjo
Kazuo Tanaka
Ken-ichi Nishiyama

coodinator: Noriji Sato


12th

Theme: Design for a Motorized Society 1- Changing Cosumpition Society

---

1st June 2001 at: International House of Japan (Tokyo)

Panel Discussion


Kuniaki Tamura
Masakazu Taniguchi
Seiichi Mizuno

coodinator: Hiroshi Sano


11th

Theme: Ecological Design-Path to Zero Emission

---

3 October1998 at: Osaka Yamanishi Memorial Hall

Panel Discussion


Akio Hayashi
Toru Shiino
Takeshi Minami




10th

Theme: Chidren's Creative Environment-realization of participatory culural community facilities

---

23 May 1998 at: Kobe Sannomiya Centor Plaza

Theme Orientation: Masato Isaka
Report: Kiyoshi Awazu
Panel Discussion

K. Awazu
Yuuichi Nakayama
Kenji Yoshida



9th

Theme: Fitting Design

---


19 February 1998 at: I-House

Keynote Speech: Fitting Design/Atuko Kamoshida
Report

Shoe Fitting/Kazuo Kato
Automobile/Takashi Saito, Tetsuji Sakamoto
Interior Coordination

Panel Discussion:

Atsuko Kamoshida
k.Kato
T.Saito
T.Sakamoto




8th

Theme: Public Design

---

5 November 1997 at: I-House

Keynote Speech: Public Design-its Range and Task/Takeshi Nishizawa
Panel Discussion: Citizens' and Experts' Evaluation

Takeshi Nishizawa
Eiko Ohya
Hideya Kawakita
Takeru Kitazawa



7th

Theme: 21st Century:Direction for Cities and Design

---

27 March 1997 at: I-House

Keynote Speech: Direction for Cities and Design/Akira Tamura
Report: Practice at Yokohama City/Naoyuki Kuniyoshi
Panel Discussion: Direction for Cities and Design


A.Tamura
N.Kuniyoshi
Hiroaki Ohtsuka
Noriji Sato




6th

Theme: Interactive Media Design

---

24 January 1997 at: S-Tech Information Build.

Keynote Speech: The Vision for Media-free Society/Hajime Karatsu
Panel Discussion: Interactive Design


H.Karatsu
Tomohiro Ohira
Keiko Torigoe
Ruichi Iwamasa

moderator: Shinichi Takemura



5th

Theme: Global Design Management

---

11 November 1996 at: I-House

Keynote Speech: The Status of Design in a Corporation-Should it be a Core Competency/Robert Blaich
Presentation

Design for Production System in Grobal Age/Seiichi Mizuno
Ecology, Personality and Self-support/Masakazu Taniguchi

Panel Discussion:

R.Blaich
S.Mizuno
M.Taniguchi




4th

Theme: Design of Personality - Role of Japanese Culture in the next Century

---

11 September 1996 at: I-House

Lecture:

Challenging the Space and Design/Kiyonori Kikutake
A Time Revolution and Design Today /Sakae Tsunoyama

Talk: Design of Personality

/K.Kikutake
S.Tsunoyama




3rd

Theme: Children and Design-Creative Environment for the Future

---

4 June 1996 at: I-House

Keynote Address: Kiyoshi Awazu
Report

Museums in Japan in Transition/Hiroko Ohtsuki
Fantastic Children's Workshop /Yuko Naito

Panel Discussion:

K.Awazu
H.Ohtsuki
Y.Naito




2nd

Theme: Design Education and its Promotion

---

28 March 1996 at: International-House

Commemorative Lecture for SIR MISHA BLACK MEDAL Lecture: Kenji Ekuan



1st

Theme: Design and Disaster

---

12 March 1996 at: The International House of Japan(I-House)

Report:

Temporary Housing-Rwanda and Kobe/ Sigeru Ban
Temporary Information and Urban Facilities/ Isao Miyazawa
Disaster Prevention for Railroad/ Toshihiko Ohishi
Information System Design of the Post-Earthquake/ Shinichi Takemura
Design Problem for Refugee Camps/ Osamu Ishiyama
Concept for Community Camp / Kenshin Urabe